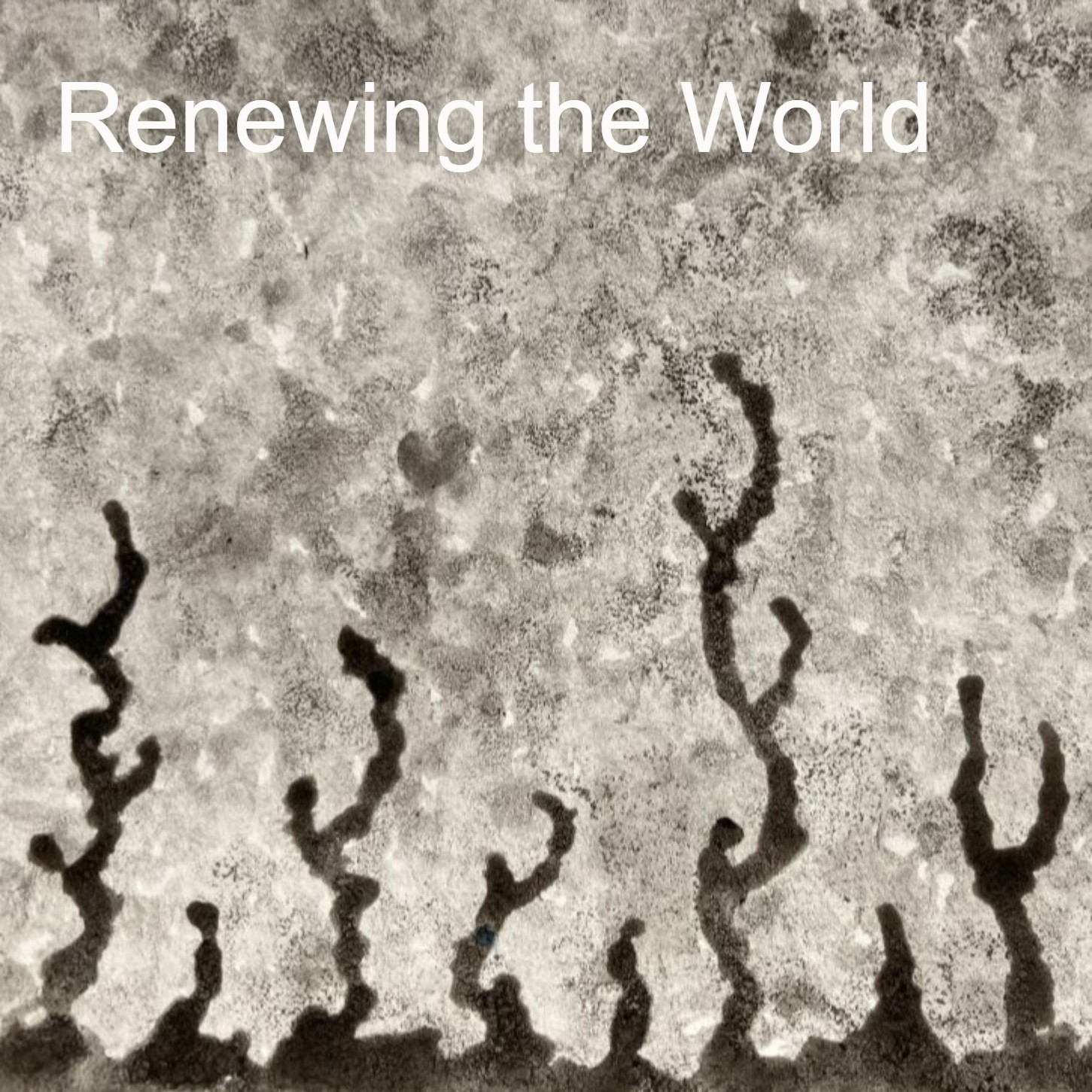 "Renewing the World" is a podcast hosted by Rachel Epp Buller, Elena Marchevska and Charles Reeve that delves into creative explorations of care, time and mothering. From the dearth of maternal representations in much of art's histories, to musings on reproduction, care, ecology and the politics of maternity, "Renewing the World" celebrates what maternal artistic voices have to say about our era's central issues.
Episodes
Tuesday Jul 19, 2022
Tuesday Jul 19, 2022
What are the generative possibilities of being an artist, a parent, and an academic? In this episode with Maria Velasco, we address both the challenges and the promises of those intersections in her own life and work while also touching on issues of migration, displacement, parent-child collaboration, and curatorial practice.
María Velasco is a Spanish-born artist who has been living and working in the US since 1991. She creates site-specific installations, public art and participatory projects about displacement, gender identity, vulnerability, and the structures of authority that govern our lives. She has exhibited at The Soap Factory, Minneapolis; Contemporary Arts Forum, Santa Barbara; ARC gallery, Chicago; Spencer Museum of Art, Lawrence; H&R Block Artspace; Avenue of the Arts, Kansas City; Albrecht-Kemper Museum of Art, Saint Joseph; Paula Cooper gallery and Elizabeth Foundation for the Arts, NYC; Salón Tentaciones (Madrid, Spain); Museo Del Barro (Asunción, Paraguay); Paradise Gardens Biennial VI (Darmstadt, Germany), Mexico, Argentina and Morocco. Her work appears in Art In America and Sculpture Magazine. Among her numerous accomplishments is a Rocket Grant of the Kansas City Charlotte Street Foundation, and an Elizabeth Firestone Graham Foundation Emerging Artists Grant. In the summer of 2019, she attended her first-ever family-friendly residency at Elsewhere Studios, in Paonia, CO, where she began filming her award-winning documentary All of Me: Artists+Mothers. The film has since screened in more than 10 Film Festivals, and been awarded Best Female Representation Award at WIFTA (Women in Film and Television Atlanta), Honorable Mention at Screen Power Film Festival in London, UK, and semi-finalist at Dumbo Film Festival in NY and at Boden International Film Festival, in Sweden. Velasco was the first art student to obtain a scholarship to further her studies in the U.S. through the Madrid-California Education Abroad program at the Universidad Complutense of Madrid, where she received her B.F.A. and completed her doctoral courses. She obtained an M.F.A. from the University of California at Santa Barbara. 
She is a Professor of Visual Art at the University of Kansas and lives in Lawrence with her twelve-year old son, Alex, who loves to read, write, draw, play music and make art.